Vermona instead of Yamaha CEEYS about electronic music and almost forgotten instruments in the GDR
5.12.2019 • Sounds – Text: Ji-Hun Kim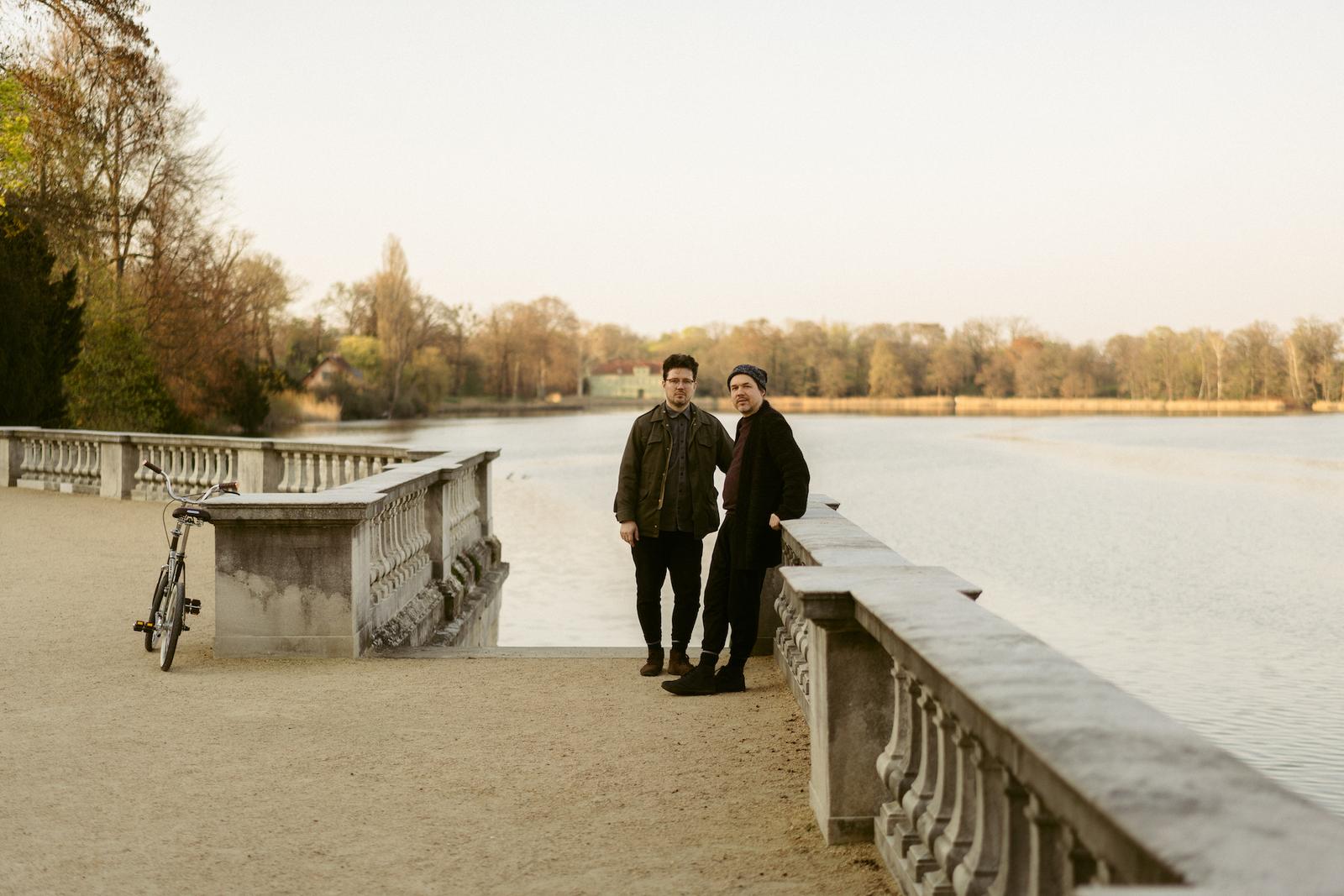 Daniel and Sebastian Selke aka CEEYS | Photo: Roman Koblov
When you travel from Berlin to Potsdam, you are always amazed at how close the Brandenburg capital actually is – and how rarely you go there. As long as you don't want to study there, work there or show your visit to Berlin Potsdam's palaces or Wolfgang Joop's villa. It is said that the fashion tsar has now moved elsewhere.
Either way, the Potsdam-Berlin route is busy. The regional express full of packs. Commuters, students, travelers squeeze into the double-decker and when you get off at Potsdam Central Station, several flyer-distributors intercept you, who want to turn on tourist tours with powdered wigs and other nepp. After all, the city is regarded as a kind of Disney Land for fans of cakes instead of bread, minuets and other classicist kitsch that could somehow be associated with Frederick the Great. One can imagine that Potsdam has a difficult cultural situation compared to Berlin. The catchment area of the German capital's internationally hyped cultural scene is too large and powerful. So many RBB and film studios on the Havel can be kept upright. But Potsdam is also the city of the West German patrons of the pretty, pretty things Hasso Plattner and Günther Jauch. Nowhere else in the east is there more Starnberger See.
The brothers Sebastian and Daniel Selke were born in East Berlin in the early eighties, grew up and have lived in Potsdam for a long time. Both are active in the Potsdam music scene. Sebastian is a cellist with the Filmorchester Babelsberg. Daniel teaches piano and conducts various choirs. In addition, they organize festivals such as the Q3 Ambientfest, run their Klingenthal studio, which focuses on synthesizers and microphones from the GDR and other Eastern Bloc countries, and with their own project CEEYS have become an internationally recognized imprint when it comes to contemporary instrumental classics. I meet Sebastian at the train station. Some time ago he asked me if I would like to come over. He wanted to tell me the story of CEEYS. To talk about her childhood in the GDR, and the musical treatment in her album trilogy "Concrete Fields", "Waende" and "Hiddensee". And about the fact that it is important to allow further perspectives of reflection even 30 years after the fall of communism. Because 30 years after the fall of the Berlin Wall also means before the 30th anniversary of German reunification. The topic remains present. Instrumental music could also play a role.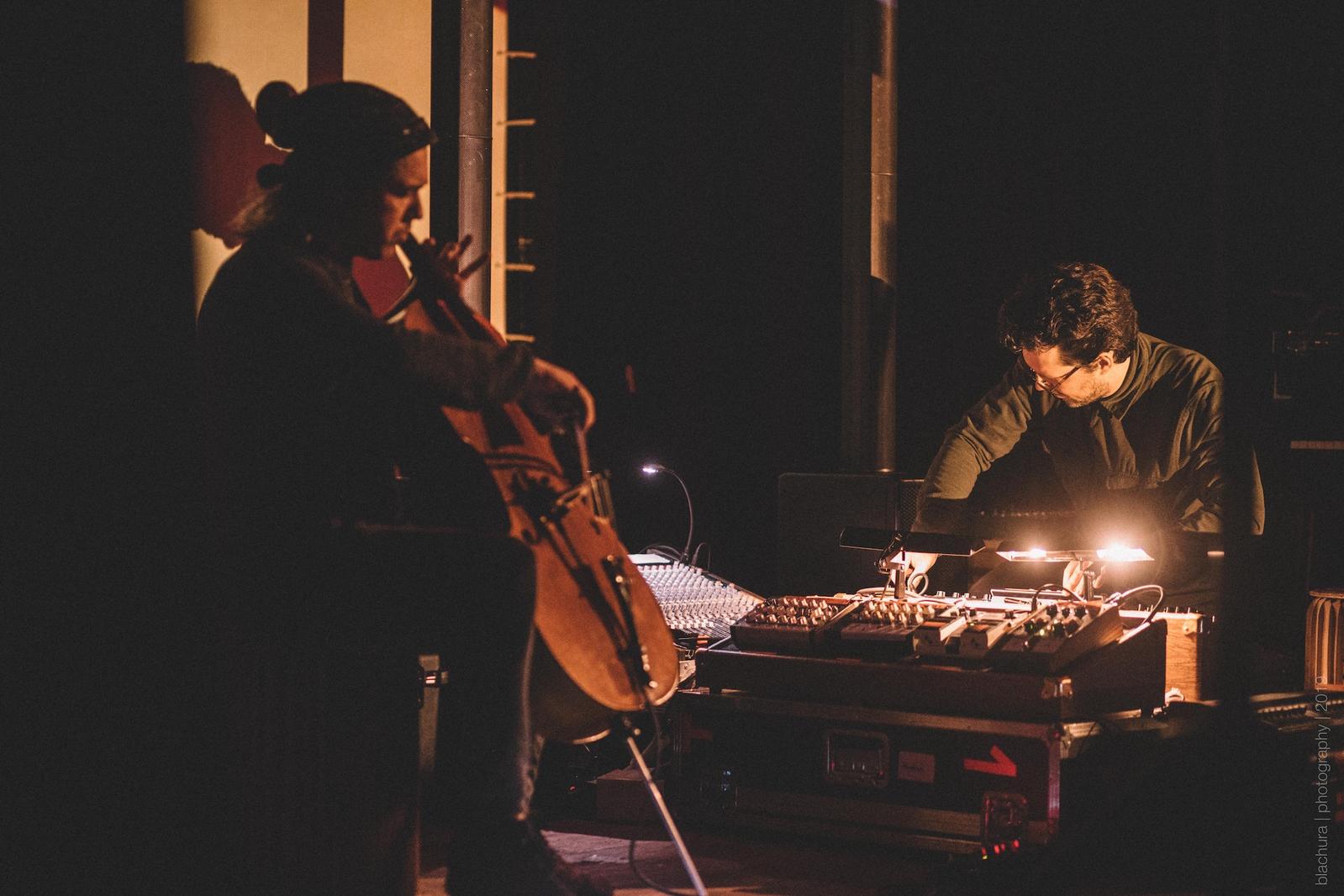 Photo by Jan Blachura
Off the ice
The Selke brothers grew up in a creative family. The mother actress, the father editor at the radio station in the Funkhaus Nalepastraße. One of his shows was called "Uhrsprünge". "It was about history and stories," explains Sebastian Selke, "Word games fascinated him and that jumped over to us. He had a cabaret side and always had problems. He tried a lot of things with humour to get to inner opposites."
Sebastian is also aware that stories about childhood tend to be transfigured. That music would play such a big role was not predetermined at first. "I was at the Turn- und Sportclub Berlin. Where Katharina Witt was also trained. Actually I should have become a figure skater. Our mother was looking for something where you could bring art, theatre, sport and music together. But it was also known that children were doped in the GDR. My mother was active as a sports trainer herself and she was also asked to treat children with drugs. It had a system and elsewhere one wondered why all the swimmers looked like men. Today it's still a scandal that hasn't been properly dealt with."
The young figure skater Sebastian already had back problems due to the many jumps, his brother Daniel felt only conditionally comfortable on the ice anyway. But it wasn't a matter of course to pursue a free career in a planned economy country. Mother Selke wanted to become a pianist herself, but was not allowed to. And to be accepted into the guild of musicians was also nothing you could decide for yourself. "Music itself was not so highly regarded in the GDR. Nevertheless, there were dynasties in the East, partly Mafia structures. Not everyone who wanted to make music was allowed to make music. But it was her wish to give the children what they did not have. So she helped us to do that. In return, we promised to do it to the end."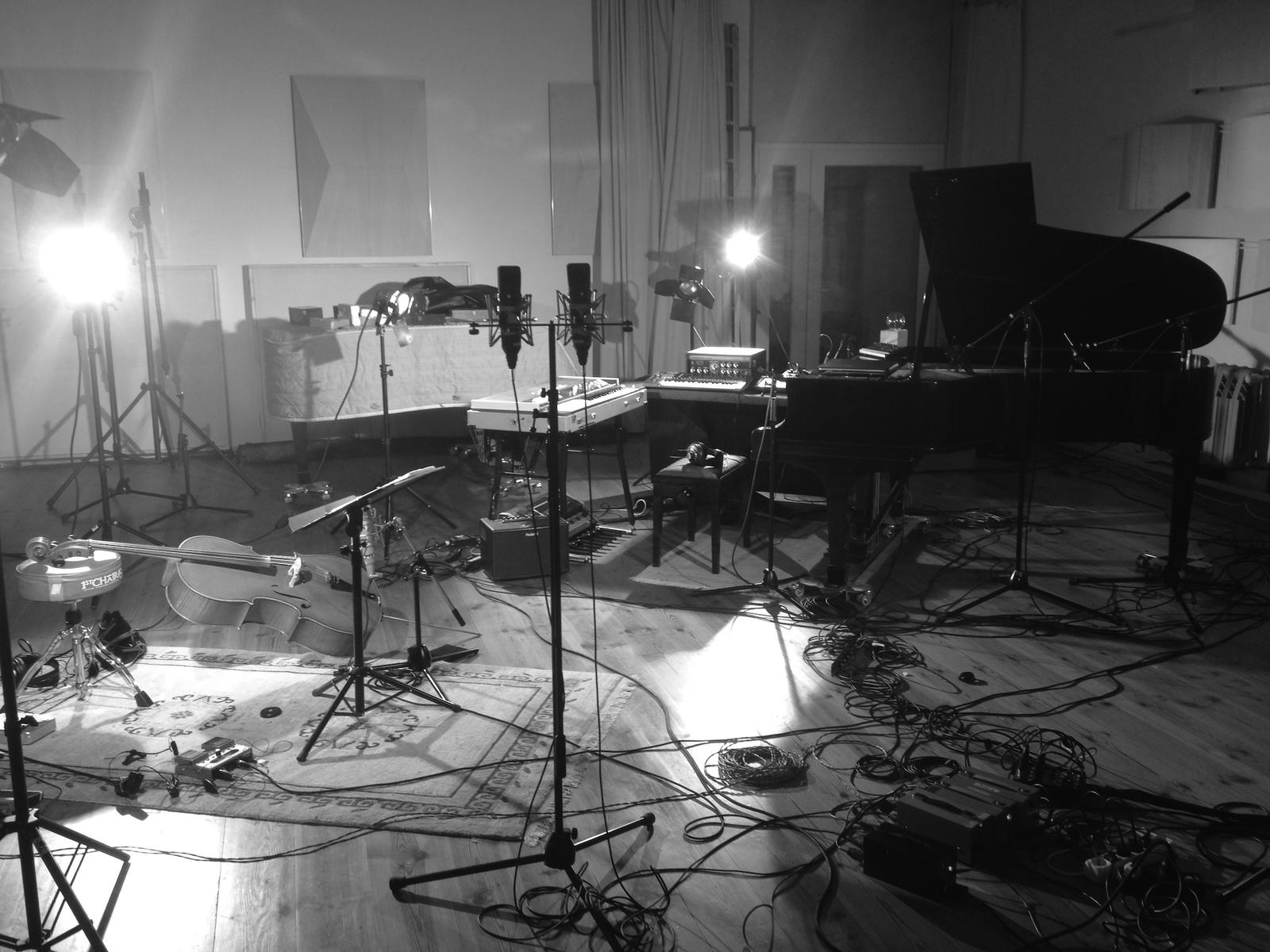 Piano, cello and lots of cable. The set-up of Sebastian and Daniel Selke. | Photo: Katharina Tress
Clairaudient
Sebastian started with the cello, Daniel, three years younger, a little later with the piano. In their East Berlin record flat, the two practiced as far away from each other as possible in order not to get in each other's way acoustically. "For the Stasi, prefabricated buildings had the advantage that they could easily be bugged because of their thin walls. This gave us problems practicing. On the other hand, we began to interact with our instruments. I reacted with the cello to my brother's piano melodies. That's how we actually came to play together. Something of my own came into being". That's when Sebastian went to primary school. Classical music is still a sporting art today. There are numerous important competitions, nowhere is practicing and technique as important as here.
Sebastian and Daniel also took part in numerous youth music competitions. Decorated with success. Meanwhile the wall had fallen and with growing up the own artistic output became more and more important. "In classical music everything was very narrow and rigid. We always loved this ambient music, but had no electronics ourselves." Mike Oldfield and Vangelis already existed in their parents' record cupboard. Otherwise the synthesizer-based scores inspired Polizeiruf 110 and of course Reinhard Lakomy. The electronic pioneer who died in 2013, who is known to every child with a GDR connection through the "Traumzauberbaum" (dream magic tree) and who still makes their eyes light up. Apart from Lakomy, there were synth musicians like Frank Fehse, but today hardly anyone can classify them. "We have never really been able to fit into the classical world. There were strict regulations. We never felt comfortable there."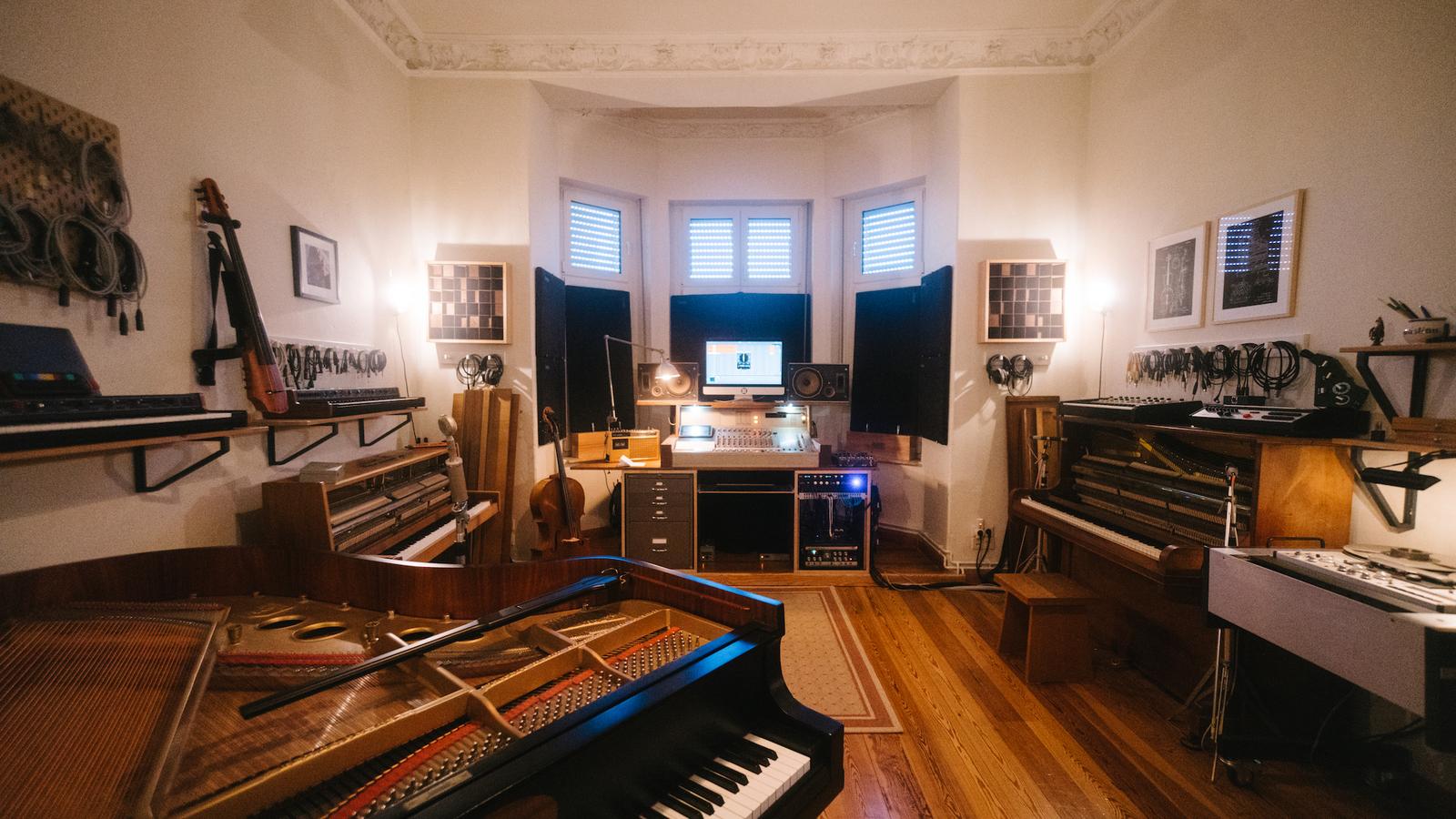 View into the Klingenthal studio | Photo: Roman Koblov
Newly mapped technology
It is often neglected that the GDR had its own world of instruments. Only in such a system could something like a subharchord emerge in the first place. "All the musicians looked to the West. Everyone wanted to play Fender, Marshall and Gibson. Instead of Vermona it had to be a keyboard from Yamaha", Sebastian explains the circumstances, why synthesizers played such a subordinate role in pop culture in the GDR. At first they were as expensive as seldom and when they were, electronic instruments were used in films or television productions. Technical incomprehension also played a role. "In the GDR, the standard mechanics were used to try to understand synthesizers. But that was not possible. Nevertheless, many great instruments were created." Daniel and Sebastian have been collecting old electronics from the GDR for years and bringing them to their Klingenthal studio. Some things are being restored, others remain in their partly shaky original condition. "Bernd Haller built the great Vermona 14. Our model can no longer hold the pitch correctly. But with Arpeggio it sounds very special. That's why we left it that way." The knowledge about these historical devices is becoming more and more rare. A very small but passionate scene. The Selkes like to drive all over the country to get dusty sound generators. In the meantime, you know e-technicians in Poland who (still) master the craft of former synthesizers and restore the instruments. "We don't want to glorify anything. It's the discovery of these instruments that matters to us in the first place – instruments that didn't interest anyone back then."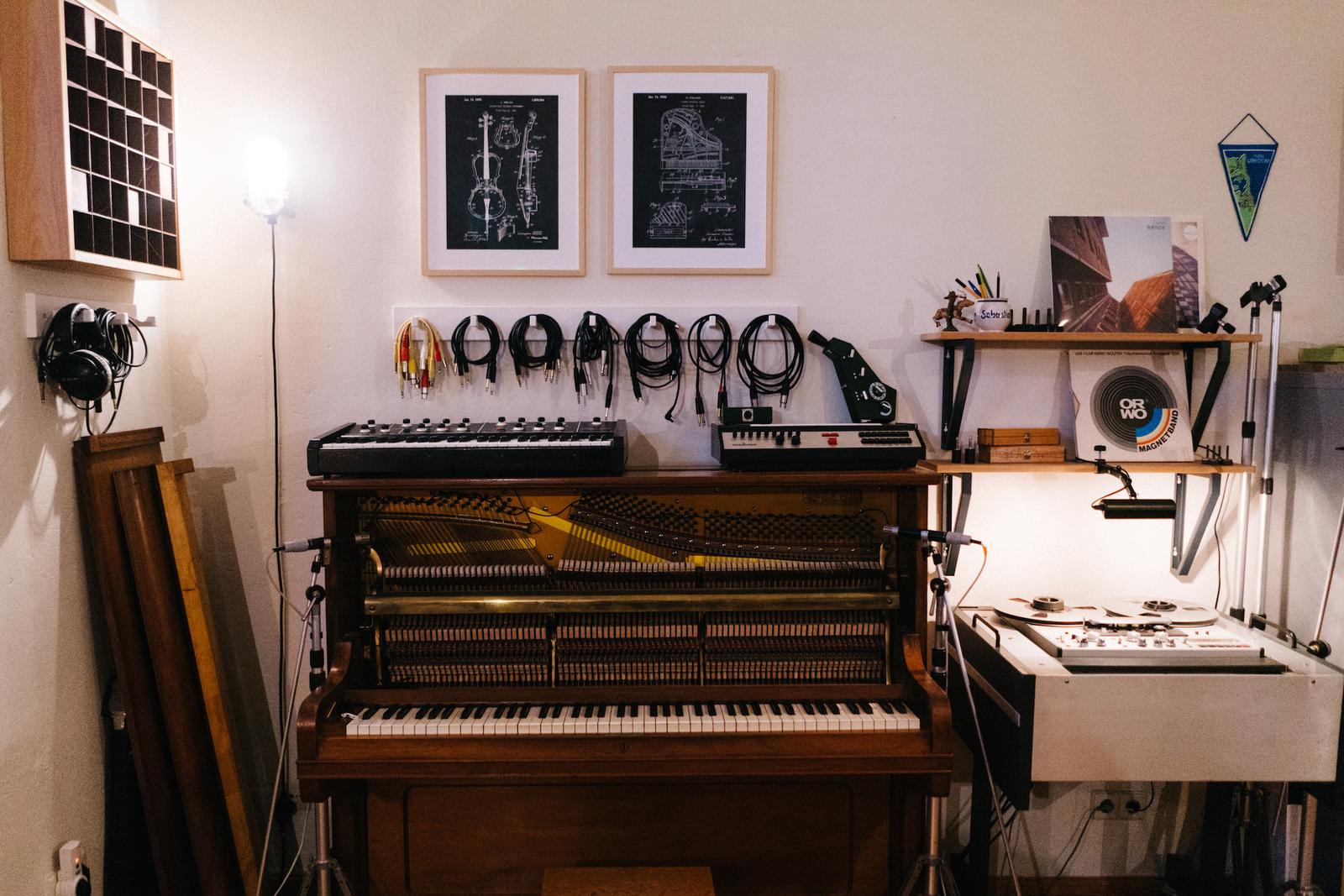 Photo: Roman Koblov
In addition to numerous Vermona keyboard instruments and DDR-E pianos, which do not even have a model name because there was only one model, the Klingenthal studio also has East German Gefell microphones, Russian octave microphones and Czech tape machines such as the Tesla B116. ("But we still have old Orwo tapes, but they stick so fast.") The almost forgotten music technology is not exhibited here in a museum, but used in everyday studio life. Be it in our own CEEYS productions or in recordings for young artists* and international artists. In a way, the sound of the GDR lives on, it develops, can create new genuine and contemporary contexts.
Dualisms
It is always dualisms and contrasts that inspire and drive the Selke brothers, according to their own statements. Communism versus capitalism, East and West, Moog and Vermona, classical and modern. Then there are two brothers. Fans of the Beach Boys and Oasis know what's going on. Letting a Vermona sound consciously in today's times could already be a message. The album trilogy completed this year deals with these frictions. "Before we made the albums, we saw the long-term documentary "The Children of Golzow". An ingenious work. Here you can see some who made it and many who failed and don't want to be filmed anymore. I discussed with Daniel how to make this topic a musical starting point. Can this be represented in an album? How can you thematize something like that with instrumental music? We wanted to create our own view of the things of the time that were so quickly passed us by in childhood. Can you remember and reflect on that?" "Concrete Fields", "Waende" and "Hiddensee" deal with concrete architecture, walls, freedom, travel and systemic contradictions. Ambient and cinematic. In a musical variety that in itself has to do with many discrepancies regarding the genre description. "A complicated matter. With the great success of people like Nils Frahm, the term Neo-Classic has already been overturned again. There are so many names for it today: post-classical, modern-classical, alternative-classical, neo-classical. But nobody knows what that is. We simply call it Contemporary. Contemporary instrumental music. That's what we think best."
CEEYS and Peter Broderick are currently working together on a project that sounds promising and is also to be implemented live. Tours in the USA were completed in autumn. Recently our own festival "Novemberstimmung" took place. Also the next Q3Ambientfest is already prepared. "Music with classical instruments and reference to the present is like a soundtrack for the city," explains Sebastian Selke. Like the architectural contradiction between Sanssouci and the numerous records on the drawing board. Sebastian and Daniel Selke help shape their city with their creative means and expand narratives. Organising things themselves, using international networks and local infrastructures for concerts and festivals. That remains important alongside all the compositions and recordings – and you get the feeling that things are just beginning for the two of them.